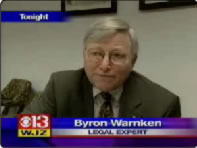 Byron Warnken in the Media
Professor Byron L. Warnken . . . As Seen on TV
Over 1500 Media Appearances
Local Media Expert Analysis
National Media Expertise
In Maryland, when the media – television, radio, and print – need analysis on the hottest legal topic of the day, they turn to Professor Byron L. Warnken.  For 35 years, he has been a law professor at the University of Baltimore School of Law.  During that time, he has also maintained a private practice of law.  First, he took only the occasional case.  Since 1992, when his wife, Bonnie Warnken, Esq. was licensed to practice law, he has maintained Warnken, LLC.
Professor Warnken's first media appearance was a 30-minute live television show in June 1978, when he was interviewed along with the Attorney General of Maryland.  The interviewer was the now deceased legendary Ron Smith, known as "the voice of reason."  Over the years, Ron and Byron became great friends.
During the last 34 years, Professor Warnken has provided legal analysis on more than 1,500 occasions.  He appears regularly on many Baltimore media outlets including WBAL TV and radio, WBFF (Fox), ABC2News, and WJZ 13.  He is often cited by the Baltimore Sun.  Although the majority of his work is in Maryland, he has also served as a national and international voice.  This includes C-Span's Washington Journal, Larry King Weekend, CNN Crossfire, Court TV, ABC National News, MSNBC, Geraldo Rivera Live, Sinclair Broadcasting, Hannity & Colmes, NPR's "Justice Talking," Canadian Broadcasting Corporation, Associated Press, New York Times, USA Today, Christian Science Monitor, Washington Post, Washington Times, and San Francisco Chronicle.
Many media personnel have stated that the reason that they always want to interview Professor Warnken is that he does such an excellent job bringing legal concepts down to earth for lay people.   He can explain complicated areas of law such that television viewers, first year law students, or first year judges can easily understand them.  He brings the expertise and communication ability to everything he does, whether on set, in the classroom, or in the courtroom.
To Reach Byron Warnken, please call 443-921-1100.
The video below contains various clips of Warnken in the media. (Don't worry, he doesn't wear his Ravens gear to the courtroom.)