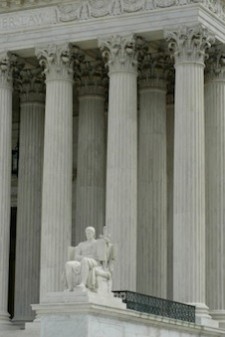 Appellate Litigation
Please Note:  Our attorneys fees in criminal appeals will be at least $50,000.  The entire fee must be paid up-front.  We do not accept civil appeals where our attorneys fees will be less than $50,000.  No exceptions are made to these fee policies.
Warnken, LLC has been involved in over 225 appeals.
Warnken, LLC is known for its appellate practice.  We have had a lot of success. Of course, past successes are no guarantee of future results because every trial and every appeal is different.  However, we do our utmost to win every appeal that we take.
Appeals are very different than trials.  Some excellent Maryland trial lawyers have never handled an appeal.  The job of a trial attorney and that of an appellate attorney are very different.  Trial attorneys try to persuade a fact finder, which is usually a jury.  To accomplish this task, a trial attorney "sells" the facts, in the light most favorable to the Client, and presented through witnesses, documents, and physical evidence.  Appellate attorneys try to persuade appellate judges that the trial court made legally reversible errors.   Trial attorneys present a factual case in a legal context, and appellate attorneys present a legal case in a factual context.
To prepare a case for trial, attorneys file pleadings and motions, conduct investigation, discovery and depositions, prepare witness, and much more.  To prepare a case for appeal, attorneys must read every word of the file; must read every word of the trial transcript; must be creative in identifying and framing legal issues for appeal; must write, re-write, and re-re-write a compelling appellate brief; must craft point headings that "grab" the reader; and must present a succinct oral argument in 20 or 30 minutes to as few as three judges and as many as nine.  That is very different than conducting a trial.
An appellate judge of many years told Professor Warnken that the problem with trial attorneys arguing appeals is that they act as if they are arguing facts to a jury in closing argument and claiming why justice is on their side.  He said that appellate judges do not care who is right or wrong.  Appellate courts defer to the fact finding made by a judge or jury.  If the fact finder reached its result in a legally correct context, the appellate court will affirm.  If, on the other hand, the trial court made legally incorrect rulings, the appellate court loses faith in the verdict and starts all over again.  Appellate courts presume that trial courts were correct, and appellate counsel has the burden of meticulously exploring the transcript and trial rulings to find the winning appellate argument.
Experienced Maryland Lawyers for Your Appeal
Warnken, LLC has been involved in over 225 appeals.
Warnken, LLC, handles appeals in Circuit Courts (from District Court and administrative agencies), the Court of Special Appeals of Maryland (CoSA), the Court of Appeals of Maryland (COA), federal appellate circuit courts, and the Supreme Court of the United States.  Of the Firm's more than 225 appeals, about 75% have been criminal and 25% have been civil.  In 90% of the Firm's appeals, we were not trial counsel.
In addition to handling "whole appeals," Warnken, LLC, often assists other attorneys on their appeals.  This includes appellate advice, strategy, and technique.  It includes identifying issues, drafting point headings, preparing or editing argument, and crafting the appellate remedy desired.  For an appeal lost in the CSA, the Firm helps find the "grabber" to persuade the COA to grant certiorari and overturn the CSA.
Warnken, LLC, is often "brought in" after the trial concludes.  The Firm can make its appellate argument in a post-trial motions hearing, attempting to "win the appeal" faster and with less expense, and still preserving all issues for appeal, if unsuccessful on post-trial motions.  In criminal cases, this means a motion for new trial.  In civil cases, this means a motion for new trial, motion for judgment notwithstanding the verdict, motion to revise judgment, or motion for remittitur.
Contact Us
If you would like to consult with us about your appeal, please call us at 443-921-1100 and ask for Professor Byron L. Warnken or email us here.