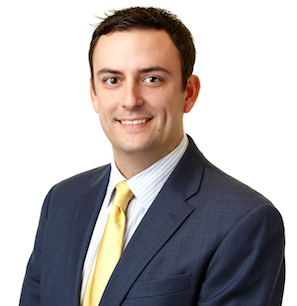 Matt Grogan
Matthew M. Grogan, Esq. – Partner
Matt Grogan strives to succeed on behalf of his clients.  Each case, each story, each person is important.  The whole firm believes it's important to achieve both results and good relationships with our clients.  Matt strives to do just that.  Attorney Matt Grogan will do everything he can to succeed for you.
In addition to being service and client oriented, Grogan enjoys the deeper legal aspects of comp, a subject even many a experienced workers' comp lawyer shies away from.  In a system where comp cases need to move quickly, legal arguments are sometimes not fleshed out as thoroughly as they should be.  It's important to Matt that, if a legal argument can be made to win a workers' compensation case in Maryland – it's going to be made.  He handles cases before the Workers' Compensation Commission and handles workers' compensation appeals to the Circuit Court and beyond.
Baltimore Workers' Compensation Attorney
Matt Grogan is the author of BaltimoreCompLawyer.com.  On his comp site, he shares his thoughts, answers common workers' compensation questions, and discusses recent Maryland comp cases.  It's an excellent resource for Maryland's injured workers.  It's even a great resource for other workers' comp lawyers in Maryland.
Personal Injury Attorney
In addition to workers' comp, Matt Grogan handles personal injury cases.  These include third-party cases relating to comp, and general negligence actions.  Car accident cases, premises liability (slip and fall and the like), and other cases involving personal injury.
History
A native of New York, Grogan came to Baltimore for law school and decided it was a great place to build a career and raise a family.  He has lived in various places in Baltimore City and County.  Prior to joining Warnken, LLC, Grogan worked for a judge in the Circuit Court for Harford County.  He experienced both criminal and civil cases.  He also worked at a firm handling a relatively large volume of Baltimore workers' comp cases, including many law enforcement officer cases.  In addition, Matt studied under Workers' Compensation Commissioner Herwig while at the University of Baltimore.
Ask for Matt Grogan. Professional, responsive, and gets great results!

Jacqueline Cade – Google Reviews
Matt Grogan and his Paralegal Amanda have been nothing short of Amazing while helping me with my workers Compensation claims. I went in not knowing what to expect and with 0 knownledge of how Workers Comp works and they both have been patient and walked me through all the steps and quickly and accurately answer any and all questions I had. I recommend Matt to anyone!

Joseph Labouyer – Google Reviews
Matt did a outstanding job getting me the Compensation I deserved with my Workers Comp. case. Thank You very much Matt.for all your help.

Rob Burr – Google Reviews
Matt is an excellent lawyer,He was very kind to our family. We had a very hard and unusual case , he stayed strong and persevered .

Renne Smith – Google Reviews
I certainly made the right choice in choosing Warnken, LLC to help with my WC claim. Matt Grogan was considerate, thorough and knowledgeable. My claim was concluded quickly with a very satisfactory outcome. I would not hesitate to recommend them.

Ms. Oakley from Google Reviews
Anyone who has ever been injured on the job knows what a terrible experience the entire process is; from the pain to the uncertainty of the future. The only positive experience was Matthew Grogan and his team at Warnken, LLC. He was extremely professional, and very thorough with the details of my case. Answered all my questions and was prompt with returning calls/emails. Thanks Again Matt.

Curt Bredice
I was completely satisfied with the service and would not only use him again, if needed, but have referred him to friends.

Maria from Google Reviews
Matt, was great working with. He would give me a play by play on what was going on with my case. I could call him for anything, and when he was not available at that time he would always call me back in a timely manner. Everything went very smoothly with my case. I would recommend Matt and this firm. You rock Matt!!!!!!

Ms. Stevens
Matt Grogan is an attorney who works extremely hard for his clients and cares deeply about their personal best interests. Whenever someone I know has a personal injury or workers' compensation matter, Matt Grogan is the attorney that I recommend every single time.

Thomas F. from Google Reviews