Rebecca Smith Earns SuperLawyer Title
Warnken, LLC attorney Rebecca Smith has earned the distinction of SuperLawyer for 2014.  It's an excellent way to ring in the new year.
Rebecca has earned the distinction for her workers' compensation practice.  She went from only a few straggling comp files in 2010 to a flourishing practice of more than 100 workers' compensation files as we enter 2014.  I have to believe that's one of the fastest growing workers' compensation practices in Maryland.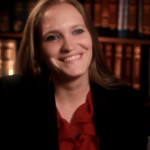 She has handled claims ranging from a few thousand dollars to hundreds of thousands of dollars.  There is not a claim that's too big for her.
Rebecca's comp practice came from her work on behalf of the Maryland Troopers Association.  Law enforcement is, unfortunately, a dangerous job.  We needed to do a better job serving our police officer clients.  Rebecca gained the knowledge needed.  Combine the knowledge with her responsiveness to clients and her tough negotiation skills, and you have the makings of a ferocious advocate for injured workers.
This SuperLawyers honor is only the beginning.  If I were a betting man, and I occasionally am, I'd bet Rebecca Smith will be one of the top five comp lawyers in the state not more than 10 years from now.  I'm going to enjoy watching her build one of the best workers' comp practices around.