Maryland Criminal Procedure
Get the 1st Annual Update.  Free.  Here.  Now.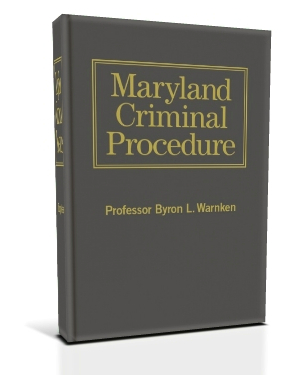 In just one year, Maryland Criminal Procedure has been described as the go-to book for Maryland Criminal Law.
The book contains more than 10,000 cases, statute, and rules, yet easily breaks down specific topic areas within Maryland criminal procedure.
Now, instead of offering the annual update for $79, $99 or more, we're giving it to you free.  Simply put in your name and email to the right and you get the update.  Click "save as" and download in two seconds.
Please share it with your office and your colleagues.  
Maryland Criminal Procedure is priced at $289 for the bound three-volume set.  The ebook version, available now, is only $149.

Maryland Criminal Procedure is available on Amazon.com.
What They've Said about Maryland Criminal Procedure on Amazon…

"A MUST HAVE for every law office"

"Definitive and Exhaustive"

"The Authority on Criminal Procedure"

"Well worth the purchase price"

"Finally!"

Read all these reviews and more on Amazon.com
Book Errors, Omissions and Citing
Citing Maryland Criminal Procedure
Citing to the treatise as a whole:
Byron L. Warnken, Maryland Criminal Procedure (2013).
Citing to particular material:
(volume #) Byron L. Warnken, Maryland Criminal Procedure (page #, consisting of a one or two-digit chapter number, followed by a hyphen, followed by consecutive pagination from the beginning of the treatise).
3 Byron L. Warnken, Maryland Criminal Procedure 32-1391 (2013).
Errors and Omissions
Page 30-1314, B. 7.: Text incorrectly includes "does not".  Text should read: "This means that the Defendant needs a ruling within five years and not just a hearing date."
Page 33-1470, Part A, Second Paragraph:  Text incorrectly states or instead of and.  The rule and statute require both a substantial possibility that the result may have been different and the newly discovered evidence could not have been not discovered in time to file a motion for new trial.