Archives : Warnken on TV
Indoor trampoline parks love to advertise their facilities as a fun, family friendly way to spend the day. Nationwide franchises like Sky Zone and Rockin' Jump have exploded in popularity over the last decade by marketing themselves as premier destinations for children's birthday parties, bar mitzvahs, and graduation celebrations. It's easy to see why kids […]
UPDATE on 9/8/14:  Obviously Ray Rice committed a crime.  Not only is the evidence out there, but he has actually pleaded guilty to the offense.  As of 40 minutes ago, he is no longer a Raven.  As of 15 minutes ago, he is indefinitely suspended from NFL football.   The league really screwed this up. […]
Byron Warnken is one of the foremost appellate attorneys in Maryland.  After the trial, comes sentencing (if it's a criminal case), motions for new trial, other post trial motions, and, ultimately, the appeal.  Appellate attorneys are often a different breed than trial attorneys.  Warnken, in the linked video says, "In an appeal, the trial judge […]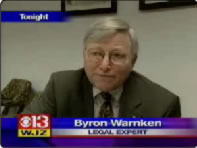 Professor Byron Warnken has been in the news quite a bit lately discussing the Yeardley Love case, non-English speaking defendants, and the Bob Ehrlich / Paul Schurick robo-calling fiasco. You can read more about Warnken and non-English speaking defendants here. Warnken correctly predicted the outcome in the Schurick robo calling case. You can read more […]
Professor and Maryland Criminal Lawyer Byron L. Warnken was quoted multiple times this week in the media.  He spoke to ABC about the George Huguely trial.  The topic was opening statements and their power over juries.  The opening statement is obviously crucial.  Warnken's quote can be read here.

Jury selection is underway in the Yeardley Love murder trial.  The trial is taking place in Virginia.  CBS asked Professor Byron Warnken to comment on the case.  The veteran criminal law professor and Maryland criminal attorney Warnken said that the prosecution's case looks very solid.  He also talked about various defenses that Huguely and the […]

Professor Byron Warnken, as Legal Analyst for News Channel 2, Is Interviewed about the "Not guilty" Verdict in the Casey Anthony Murder Trial

Professor Byron Warnken, as Legal Analyst for WJZ Television, Is Interviewed on the Jury's Award of Punitive Damages in the Baltimore County Case in Which Exxon Was Responsible for Underground Leaks That Made Homes Uninhabitable

Professor Warnken interviewed regarding Court of Appeals' reversal of first degree murder convictions of two men convicted of beheading three young family members.

Warnken interviewed about indictment of Paul Schurick and Julius Henson, former personnel working on Ehrlich gubernatorial campaign.