Cars, Cops & Stops
I will never know what it's like to stop a vehicle, get out of my car on the side of a busy highway, and walk up to this stranger, having no idea whether he is armed or not.
I'll never know what an actual traffic stop is like from the eyes of a law enforcement officer.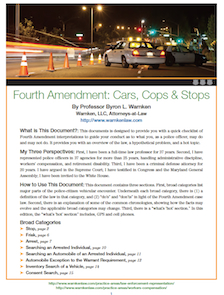 But I know that despite the fact that we'll never know,  prosecutors, defense attorneys, and judges have a lot of opinions about what should and should not happen when law enforcement interacts with citizens.  The Fourth Amendment and all the cases that have come out of it dictate what will happen in court once everyone has the benefit of hindsight about your traffic stop.
This 18 page handout is meant as an easy to read guide to the Fourth Amendment from the police officer perspective.  What does the law say?  And how does that law translate into Do's and Don'ts for you, the law enforcement officer.